---
Sandra Long
Woodwind
Sandra has been playing woodwind instruments and piano since being at Junior school. She was also a cathedral chorister for 10 years. She then did a short time in the WRAC staff band before training at the London College Of Music and Rolle College, to become a teacher. Sandra teaches all woodwinds from Ocarina through Flutes, single reed and double reed instruments.
---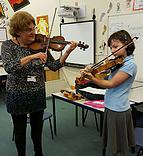 Lorraine Rowbotham
Clarinet, Saxophone, Flute and Violin tutor
Lorraine grew up in the Ramsey area and learnt the clarinet at Huntingdon Regional College. She moved to Manchester as a teenager and studied the clarinet at the Royal Northern College of Music. After graduating Lorraine joined the Ulster Orchestra. After a few years she moved to London where she worked with many orchestras and ensembles. Lorraine has always taught the clarinet alongside her performing career and can teach a mixed range of ages and abilities.
Since moving back to the area in 2001, Lorraine has built up her teaching locally, specialising in clarinet and flute.
---