Adam Southwell
Cello Teacher
Adam teaches 'cello. The main focus of Adam's career in Ramsey was as a science teacher, with extra curricular music a theme throughout. Adam has worked with string groups, the wind band, jazz groups and choirs at Abbey College and outside.
When he's not teaching music he works at Red Balloon, Cambridge, teaches adults maths, or can be found with Ramsey Choral Society
---
Sandra Long
Woodwind
Sandra has been playing woodwind instruments and piano since being at Junior school. She was also a cathedral chorister for 10 years. She then did a short time in the WRAC staff band before training at the London College Of Music and Rolle College, to become a teacher. Sandra teaches all woodwinds from Ocarina through Flutes, single reed and double reed instruments.
---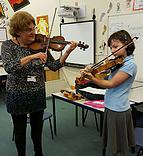 Lorraine Rowbotham
Clarinet, Saxophone, Flute and Violin tutor
Lorraine grew up in the Ramsey area and learnt the clarinet at Huntingdon Regional College. She moved to Manchester as a teenager and studied the clarinet at the Royal Northern College of Music. After graduating Lorraine joined the Ulster Orchestra. After a few years she moved to London where she worked with many orchestras and ensembles. Lorraine has always taught the clarinet alongside her performing career and can teach a mixed range of ages and abilities.
Since moving back to the area in 2001, Lorraine has built up her teaching locally, specialising in clarinet and flute.
---